Newspaper Services
Full Service — Layout and Printing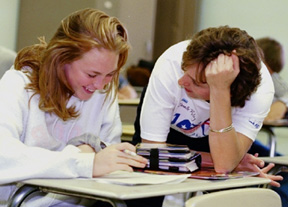 Putting out a newspaper is a lot of work. We know it's hard to set aside time to learn the programs required so the paper can come out on a timely basis. Updating software and computer equipment can also be very costly. That is why so many newspapers call on Media Trends to lay out their pages, provide technical support, and make sure deadlines are met.
It's sometimes difficult to describe all the intangibles we offer — like advice, support and encouragement — but here are just some of the benefits of Full Service.
Media Trends will:
Layout pages using your word files and photos
Make pages fit using accepted journalistic standards
Fill in empty spaces on pages that run short
Add late stories or photographs to the layout
Provide clip art and stock photography
Design new flags, mastheads and logos
Design statistical charts and picto-graphs
Convert photos that will print correctly in color or grayscale
Provide a proof and make changes to the pages as needed
Create digital files for printing
Print newspapers on a variety of paper stock
Deliver the finished newspapers

With the uploading capabilities that our website offers, you never have to leave your office in order to get the paper published.
Our newspapers are delivered by the best services possible — courier (for newspapers in our delivery area), UPS, or Federal Express.