Frequently Asked Questions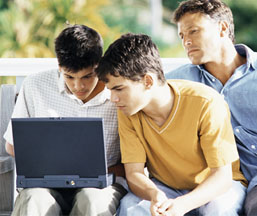 Have questions? We have the answers.
For more answers, please call us at 1-866-376-5400.
Okay, I am totally disorganized. Can you help?

Yes! All you need to do is send us your stories and pictures. We will assess your needs and make a recommendation to get you up and running right away. We have forms and checklists to help you get organized.

Can the work be done entirely on the web?

Yes! You can upload your photo files, word files or layout using the "Send A File" page on this website. It's easy to use – similar to an email attachment. When we complete your layout, we'll email a proof for your approval. Once you give us the go-ahead, your paper is printed and delivered.

Aren't you too far away for this to be practical?

No! Using the internet, we can produce your newspaper efficiently, no matter where you are. Uploading your files to our website is easy (you can also send your material to us by FedEx and we'll pay the charges). Page proofs are sent to you by email for review and you can call or email your corrections. We will print the paper and quickly ship it to you, or we can work with your local printer once the layout is complete. We are affiliated with a number of established presses across the country, so most UPS shipments take no more than one or two days to arrive.

How long does it take to have our newspaper delivered?

This depends upon the service that Media Trends is providing. For Print Deluxe the turnaround can be as short as 24 hours, but two to three days is average. Adjust and Fit turnaround is usually less than a week. For Full Service we recommend that you budget about seven to ten business days from start to finish. Many full service jobs can be turned around in a week if all the stories and pictures are ready at one time.

Isn't it expensive to use Media Trends?

Not really, considering all the time you save not having to produce the layout yourself.

When Media Trends becomes your production department, the students can focus on the important aspects of journalism -- covering events, writing articles and taking pictures. Tell your administration they won't have to invest in expensive desktop-publishing programs or spend countless hours training new staff to use the programs.

Isn't this like cheating?

Of course not. Many schools need help in getting their paper out the door. Not all of them have the latest equipment PLUS an adviser or staff that knows complicated layout programs. Yearbooks and many literary magazines are handled the same way. All of the writing and photos are the students' own work. We are essentially a layout service for high school and college student newspapers.

We produce our layouts in house, but sometimes we have difficulty getting the file to the printer. Can Media Trends help?

Yes! Media Trends can ease your printing headaches. When we receive a student-produced file, we open it up and look over all the pages to make sure that everything will print properly. If photos are too dark or have poor contrast, we'll try to adjust them. If we notice any errors, we'll even contact you and correct them! If you need to make changes to your file, we will provide support to help you through the process.

We haven't published in over a year. Can Media Trends get us up and running?

Yes! Media Trends has revived a number of papers, which are now active and read by many students.

What is a proof?

A proof is a way of ensuring that we have laid out your pages according to your wishes, set your type accurately and that everything is positioned according to your requirements. Typically, we will produce a proof which will be sent to you by email, or printed on paper and sent to you in person.

Why do I need to look at a proof if I've already given you everything I need to have done?

We try as hard as possible to accurately produce your pages, but occasionally mistakes occur. Your approval of the final proof is assurance that you have looked over every aspect of our work and approved it as accurate. It benefits everyone if errors are caught in the proofing process rather than after the job is delivered.

If I send my work in on disk or upload electronically, do I still need to approve a proof?

Not in most cases, but if we do ask you to review a proof, it is simply to ensure that you will receive the most accurate final product.

How do I go about getting an estimate from you?

We suggest you use our online estimate request form. Another way is to call us to ensure that we get all the information necessary to do an accurate quote.

What other kind of work does your company do?

Media Trends specializes in producing newspapers for high schools and colleges. We also produce other publications, such as guidance department programs of study, superintendents' bulletins and literary magazines, all for the educational market.
---