Employment Opportunities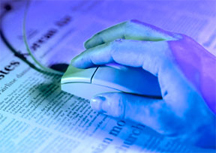 Job applicants should have both editorial (written word) and design (graphic art) experience.
Do typos jump off the page at you? Can you write a headline? Our publications are extremely text-intensive, so we look for individuals who know how to use and manipulate words as much as images. Also important is familiarity with Adobe InDesign, QuarkXPress and Photoshop.
We look for many qualities in the individuals we hire -- excellent grammar and spelling skills, strong design sensibilities, someone who can communicate effectively. In addition to these necessary qualifications, we always look for one attribute in particular -- the ability to provide a high level of enthusiasm and customer service while producing quality publications and websites.
Current Openings
Thank you for expressing interest in a career with us. We always accept applications from qualified individuals.