Featured Services
Think of us as your quick and reliable production department! We will design and lay out your newspaper pages, make corrections as needed, and create a high-quality, press-ready PDF.

We design websites for newspapers and organizations. If you already have a website, we can update it on a regular basis. Learn more about our design and content management services.
---
Media Trends offers the most extensive aid to high school, college, and independent newspapers in North America.
Media Trends makes it easy to put out your newspaper. Newspaper page layout, printing and managing websites – these services can be purchased separately or conveniently packaged together.
See our products and services.
Ready to upload your files? Click Here!
Need a price quote? We'll promptly send you an estimate.
Search our resources & support area for forms and software.
Learn more about our company.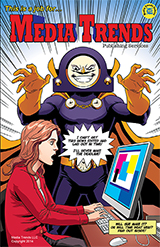 Why Media Trends?
Lori's Blog